• germophobe • stinkninja • touchme • vivolumio • yourtogokit
Our overall goal is easy-hassle free cleanliness and health, in order to support the health of those who matter to us most. Without impeding on our necessary day-to-day activities, such as going to our places of work, and without needing to invest in unsubstantiated methods of disinfection, we strove to give safety precautions we can all easily take, using simple tools that are readily available to all of us.
---
• germophobe • livelight • stinkninja • vivolumio
The top priority for every kitchen should be to keep all surfaces clean. Doing so deters small outdoor bugs, insects, flies, and even rodents, from making their way in to your house and having a go at unseen bits of food that may have inadvertently made its way under your toaster. 
---
• germophobe • stinkninja • touchme • vivolumio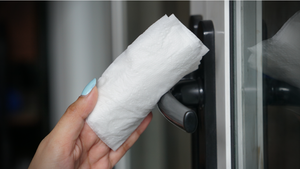 Establishing a routine cleaning practice in our homes and workplaces is essential to maintaining a clean, safe and healthy environment, and should be the first step we undertake, prior to sanitizing or disinfecting. With the right tools and practices in place, keeping our homes safe and virus-free becomes a breeze.